Events Guide: April 2018
First quarter of the year down, three more to go! Have you been making progress towards your goals? If meeting more contacts and growing your influence is on your agenda, head to one of these educational, inspiring and business-minded events in April to get on step closer to smashing your goals!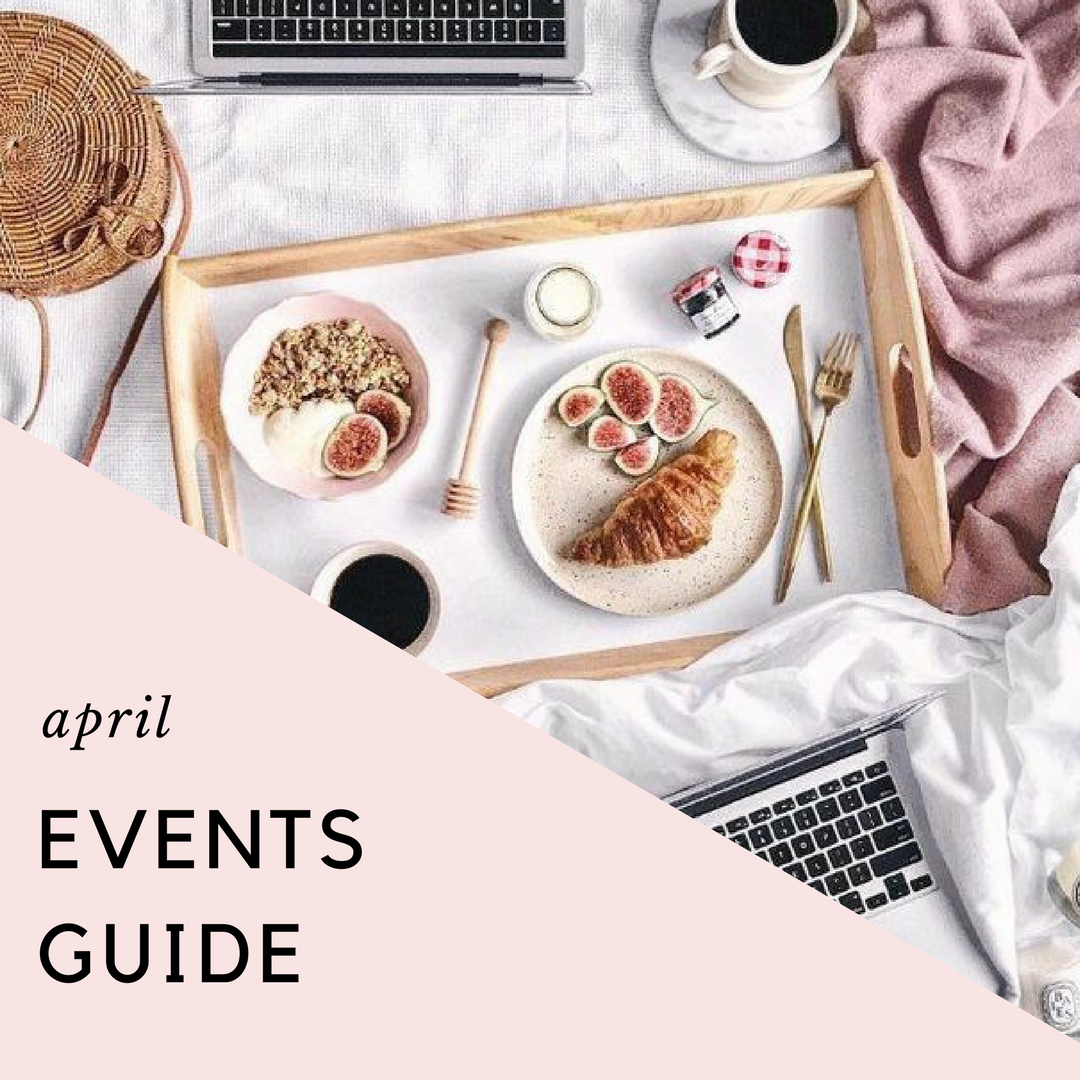 MELBOURNE
How to turn your passion into your business
Wednesday 11 April, 6:00pm | Tickets from $10
Most startup founders build their business around their passion. While your passion may fuel you to start your own venture, you need more than that to sustain your business and keep it going. There are processes and systems that need to understand - from operations to accounting, to sales and marketing, to hiring people - that may be entirely new to you. Learn valuable life lessons and get an insight into how others have conquered their challenges and fears by attending this event and hearing from Vanessa Vanderhaven, a Melbourne-based illustrator, and Sheree Rubinstein, co-founder of One Roof and a former lawyer. Grab your tickets here.
The Business of Marketing
Thursday 12 April, 9:30am - 11:30am | $20
If you find it challenging to market or feel overwhelmed when deciding where to put your energy and dollars to get new customers, then this event is for you. Hear from local marketing expert, Emily Osmond of Good Media, as she explores the solutions to these problems face by small businesses everywhere and even get the change to share your own story over a networking morning tea! What are you waiting for, book your ticket!
Run the World TechFormation 2018 | Women in tech conference
Friday 13 April, 10:00am - 3:00pm | Tickets from $120
The League of Extraordinary Women are hosting Australia's most exciting Women in Tech Conference! Tech-formation Women in Tech Conference is an all-day conference, shining the spotlight on female industry leaders and women in tech. This event will showcase women who have fought against being the minority and are building the tech products of the future, or leveraging technology to build global brands and businesses. Prepare to be inspired, learn, and grow as you spend an entire day connecting with extraordinary females, and hearing stories of women who are at the forefront of the digital revolution. Find out who's speaking and book your tickets TODAY!
Melbourne Breakfast with Lisa Wilkinson
Tuesday 17 April, 7:00am - 9:00am | From $129 + BF
Lisa Wilkinson is at the top of her game. Throughout her career she's earned the respect of audiences across the country, from magazines to radio to online and television – even more so in the past year, as she's raised her voice once again and spoken out on what's right and fair. As you know, Lisa has recently been front page news, both here in Australia and internationally, and we can't wait to hear what she has to say at this special Business Chicks event. Grab your colleagues and your friends and book a seat at this special event!
The Juggle is Real
Wednesday 18 April, 6:00pm - 8:30pm | $20
Navigating work, life and parenthood required a constant juggling act. We're always busy and never seem to have enough hours in our days. SheSays is putting on this event to explore how women in a range of creative industries are juggling careers, side hustles and families. Hear from Elly Hewitt (Alt/Shift), Lucy Allen (The Graceful Collective), Kate Pollard and Jodi Gedes (Circle In) and Louise Laing (G Adventures), in a panel discussion on the ultimate juggling acts. Know you're not alone and hear from these inspiring women by booking your tickets!
Startmate Demo Day - Melbourne
Thursday 26 April, 6:30pm - 10:00pm | $15
See the best Australian startups pitch their companies at this year's Startmate Demo Day! This year's event will showcase 10 amazing startups working on pivotal problems like improving diversity in the workplace, getting disaster relief funds to those who need it most, and optimising operations within the manufacturing industry. Come along be inspired and show support for Australia' emerging startups and book your tickets here.
Pitch Night: The Future of Work
Tuesday 24 April, 6:00pm - 8:30pm | FREE
To shed light on the changing world of work, Startup Victoria is partnering with Spacely this month showcase four up-and-coming tech startups that are looking to impact and shape the way we will work in the future. There will be a room full of enthusiasts, venture capitalists, and industry professionals from all walks of industries. If you would like to pitch, find out more info on how to submit an application here.
BRISBANE
Women in Business Co. Luncheon April: Let's talk money!
Tuesday 10 April, 10:30am - 1:30pm | $30
As business owners and professionals, we're all in the business of making money, right? From marketing to sales, branding to social media, networking to the client experience - everything we do is focused on bringing in the money! But many business owners stop strategising about money after they've made it and as a result, they're not getting the most out of their hard earned cash! Learn how to get more out of your money and have it working better for you whether it's to pay less tax, invest it to make more money or to buy something you love. Use your money wisely and purchase your tickets here!
Learn to network like a pro | genYOU Inspire
Wednesday 11 April, 5:30pm - 7:45pm | FREE
Whilst there is an art to networking, the challenge is in maintaining and growing relationships that matter. This event will bust some networking myths, show you how to approach strangers at a networking event, help you find new contacts in unlikely places and talk about relationships that matter. Find out more and get your tickets here.
Startup Lounge #2
Wednesday 18 April, 6:00pm - 8:00pm | FREE
Startup Lounge is a series of events presented and hosted by Chris Rolls, Investor, Entrepreneur and Presenter. Held in the Stair Stadium at The Precinct, Startup Lounge aims to uncover stories you've never heard before. Secure your free tickets here.
League of Extraordinary Women: Building a Digital Marketing Strategy
Friday 20 April, 7:00am - 9:00am | Non-Member Price: $25
Ever heard of the phrase "A customer needs to see your brand 7 times before they buy"? Well, as more brands vie for people's attention, it's more important than ever to have a solid digital marketing strategy in place. The '7 Times' theory is predicted to get to 22+ in 2018 and beyond! This workshop is all about getting your digital marketing working for you, automating your marketing and exploring strategies that ensure you get a BIG impact on a little budget. Plus, our friend Jess Ruhfus from Collabosaurus is their guest speaker! Don't miss the party and grab your tickets now!
SYDNEY
Women in Business Networking Event - Hills District Sydney
Monday 9 April, 9:45am - 11:30am | $27
Real Entrepreneur Mums Communities are not your traditional referral group! Inspiring communities where Entrepreneur women come together to support each other to really smash their business goals and this isn't just for mums, it's for all women! Communities are for highly motivated and committed women who want to grow their business through referrals, increase their professional profile and authentically help others to do the same. Grow your network and take a chance by booking your spot!
The COLLAB
Thursday 26 April, 3:00pm - 7:30pm | FREE
The COLLAB is a facilitated networking and collaborating event for sole-traders or very small business operators working in (or along-side) the mental health, disability or community service sectors. This event is designed to introduce you to other like-minded, self-employed individuals. Find out more about this event and make sure to reserve your spot!
An Evening with Bec Judd
Monday 30 April, 6:00pm - 8:00pm | Tickets from $109
Join Business Chicks in a special cocktail event with Bec Judd! Rebecca Judd has a CV like no other - she's a TV presenter for a travel show, radio and podcast host, a kids bedding designer, a fashion and lifestyle blogger, and a model and brand ambassador for some of the country's biggest brands. She is now adding author to her burgeoning list of career achievements, having co-written The Baby Bible: A Guide To Taking Care Of Your Bump, YourBaby and Yourself. Don't miss this opportunity to hear from one of Australia's #girlbosses, grab your gals and book your tickets here!
ADELAIDE
Free Busting Burnout Workshop
Tuesday 10 April, 7:00pm - 8:00pm | FREE
If you are feeling stressed, overwhelmed, exhausted, tired, irritable, anxious and burnout with your personal and professional life, this workshop is for you. This is a free 1 hour workshop with tips and ideas about what to do when burn out and learn about burn out recovery. Book your free spot.
How to Start A Business Online
Tuesday 17 April, 6:00pm - 8:00pm | FREE
Learn from the experts how to start and run a home business. This is a Live Event where you will be able to learn and discuss what it takes to start and run a business online, how to select the right business model and why that will impact your bottom line, how to select products with high-profit margins and so much more. Register your interest here.
Big Digital Adelaide 2018
Wednesday 18 April - Friday 20 April, 9:00am - 5:30pm | Tickets from $149
Adelaide's biggest digital marketing conference is back with world-class speakers, in a world-class venue with world-class food! Spanning over three days, start your Big Digital experience with a full-day workshop that allows you to dig deeper into a single area of search marketing then spend two days learning every aspect of SEO, paid search tactics and tools, social media marketing, blogging and content development, and a dozen other topics that will help you step up your online results in 2018. Get your ticket now and secure a seat at Australia's most exciting search marketing conference experience
Business Builder Lunch
Friday 20 April, 12:30pm - 2:30pm | $41.51
For all small business owners looking to build your business, this one is for you. Sharon Kaibel from AchieverNet is hosting a Business Builder Roundtable Lunch to help you learn and discuss ideas for business growth, networking and business connections. This lunch will consist of 3 Business Builder Round Robin table options, designed to help you grow your business, speed networking for you to connect with other like-minded professionals, a showcase table for your promo offers and a light working lunch while you network. Find out more here.
HOBART
Hobart - In Conversation: Polly McGee
Monday 9 April, 6:00pm - 8:30pm | Member: FREE | Non-Member: $25
If you are a female entrepreneur, have a side hustle, or you're thinking of owning your own business, this Meet Up is the perfect setting to meet other women in the same boat and hear from an inspiring girlboss! Hear from Polly McGee, an author, speaker, business strategist, yogi and good hustler, who is strongly committed to philanthropy, equality, compassion and the good hustle. Grab your tickets here.
LAUNCESTOn
Women Entrepreneurs Networking Lunch
Wednesday 11 April, 12:00pm - 1:30pm | $5
Join like-minded business women over lunch, listen to an informative speaker and grab the opportunity to tell your own business story. Hear from Lindi McMahon, an entrepreneur and architect of community connection, who has owned a small retail business, Home & Me for 8 and a half years, and is passionate about her city and being involved in promoting and supporting local businesses. Grab your lunch and secure your ticket here.
PERTH
Meet the Mentor & Networking
Tuesday 10 April, 9:50am - 12:00pm | Tickets from $30
The Inspired Women of Perth are hosting Meet the Mentor - a powerful networking event that will change the landscape of your business forever. This is an event that will allow you to join the round tables of various mentors and learn from the best. Check out the mentors who will be at this event and secure your spot for this rare opportunity!
The Humans of Start-Up Land
Wednesday 11 April, 5:30pm - 7:30pm | FREE
Despite what the media and your parents might think, not everyone is a jeans-and-t-shirt wearing hipster, sipping coffee while typing on their Macbook in a co-working space or funky cafe (not that there's anything wrong with that!). By showcasing a diverse range of startups and entrepreneurs, this event will reinforce that we in 'start-up land' are real people, with interesting stories, achieving great things, building new business and creating the jobs of the future to support WA's economy. Join the Startup Community in WA and reserve your spot for this free meet-up here.
PROMOTE YOUR EVENT!
WE LOVE TO KNOW WHAT'S HAPPENING TO SUPPORT CREATIVELY DRIVEN FREELANCERS AND BUSINESS OWNERS. THE EVENTS WE SHARE FOCUS ON EXPANDING KNOWLEDGE, BUILDING CONNECTIONS AND PRIORITISING SELF-CARE. IF YOU HAVE AN EVENT THAT FITS THE BILL, PLEASE EMAIL HELLO@COOLWOWCOLLECTIVE.COM FOR THE CHANCE TO BE FEATURED.